Austin Friends Networking 20-30s! Meet New People and HAVE FUN!
May 20, 2017 @ 7:00 pm

-

9:00 pm

CDT
Want to meet friendly people efficiently and in a low-pressure, fun setting?
Come to Austin Friends Networking! You can quickly and easily meet great people and make new connections with people who are also looking for new friends.  If you are new to Austin or just need a better group of friends come check us out!
Event Agenda:
7:00 – 7:30: Check In and Mingling Games. Make sure to arrive within the first half hour.
7:30 – 9:00: Main Event Rotations. You will be paired with a partner, you chat with them for a few minutes, and then you rotate to meet a new partner and repeat.
9:00: Event ends and the friendships begin. This is where attendees exchange contact information, grab food/drinks nearby with their new friends, and make future plans.
Ticket Prices:
$14.95 Early Bird Ticket !!EARLY BIRD SPECIAL!! Only for the first 10 people who sign up will get this price.
$24.95 Pre-Event Ticket
$30 Last Minute Online or Cash/Card at the door
Your ticket price includes:
Mingling Games, the Austin Friends Networking  Main Event, raffle tickets for great prizes like two-person passes to local events, and the option to stay after the event to mingle with your new friends.
Get your ticket now to guarantee your spot at this limited seating event.
There will be a one Drink Minimum required at this event not included in the ticket price.
Special promotions for this event – Bring a friend and get ½ off the price of one ticket! In order to qualify for this promotion, you must buy both tickets on the same day. Then, email your host and you will get the promotional amount refunded back to you. Email us at  [email protected] for promotion redemption or more details.
Worried about attending a Austin Friends Networking event for the first time? You're not alone! Many attendees are first-timers too.
Questions? Contact the host or email us at  [email protected]. For more information on event details and policies, read on.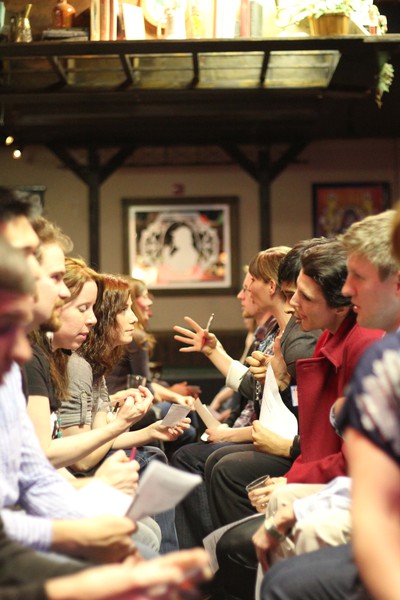 Additional Details:
How the event works:
The idea is that Austin Friends Networking is a giant icebreaker for the group. The first half hour will consist of Check-In and Mingling Games. Once the Main Event begins, you will sit in a chair across from a partner. Your partner may be a man or a woman (unless you are attending a themed single gender event). You and your partner will have a few minutes to get to know each other, generally by asking questions. When the time is up, the group will rotate and you will meet a new partner, and repeat. We put the 'speed' in Speed Friending so in order to keep the event moving along, you should only exchange contact information when the Main Event portion is over. There will be a short break in the middle of the 90-minute Main Event.
At the end of the Main Event period, attendees exchange contact information, mingle, grab food and drinks together, and have a great time hanging out. The post-event social time gives you plenty of time to ask someone for their number/email/Facebook/etc., naturally get to know people, and catch anyone who you were not able to meet during the rotations.
Late arrival policy:
Please arrive within the first half hour of the event. If you arrive after the half hour Check-In period, we may not be able to include you in the event as late arrivals disrupt the rotations and distract others. If you have pre-purchased a ticket and arrive after rotations have begun, we will not be able to credit your ticket. This rule is in place to provide the highest quality experience to those who are on time.
What to bring to the event:
Bring a writing utensil and a paper or notecard with about 5 questions ready that you would want to ask your new potential friends. Some conversations will needs those questions to get jumpstarted and some won't. If you forget to prepare questions, not to worry, we will provide supplies and suggested questions at the event.
What kinds of questions should I ask the other attendees:
Think about what you would really want to learn about someone you are trying to get to know. We recommend taking advantage of the time to ask questions like how they spend their free time, what they are seeking in a friend, what their greatest attributes are, etc.
Does it really work:
Our average attendees finds 4 friends and 2 dates. Look at out our website to see the great things real attendees have said about their Friending Austin Style experience. Attendees often meet more people seeking friends in two hours at Austin Friends Networking than they can in a year at bars/local events/online. It's a self-selecting friendly crowd with a giant, relaxed group icebreaker activity. How can finding friends get easier than that?
Dress code: Casual
Prizes:
We raffle off Austin Friends Networking passes, two-person passes to local events like comedy clubs, and sometimes surprise items like gift cards to local venues.
How to find us:
We are generally in a private or semi-private room. The host will be wearing a nametag. If you do not see a group of people wearing nametags, ask the venue staff to direct you to the Austin Friends Networking event.
Ticket Credit and No-Show Policy:
Ticket purchases are non-refundable. However, we understand that life happens. If you have purchased a ticket and will be unable to attend the event, email your host or  [email protected] at least 24 hours prior to the event and we will issue you a credit to a future event of a similar type. If you do not notify your host at least 24 hours prior to the event and/or do not attend, you forfeit your ticket.
Prepayment is highly encouraged. We work hard to create amazing events where attendees can make meaningful and lasting connections. Prepayment lessens the chance that an event is cancelled due to low ticket sales or that you will not be able to participate because an event sells out.
Wait list:
Please sign up even if there is a waiting list. We promise to move those on the wait list into spots as they become available.
Thanks! See you there!
– Austin Friends Networking